In an interview with HaltonHillsToday, the local celebrity shares everything from his favourite restaurants to renovation advice in advance of his upcoming appearance at the National Home Show
He's television's favourite home renovation expert, a father, a role model, and best of all, a Halton Hills resident.
We caught up with the one and only Mike Holmes this week to chat about his upcoming appearance at the National Home Show, the worst renovation horror story he's ever fixed and what he loves about being a local resident.
(Some answers have been edited for length and clarity.)
You'll soon be appearing as an expert guest at the National Home Show. What exactly will you be doing there?
"I'm looking forward to this one because the every-day people will be there. I get to talk to them about the dos and don'ts of renovations and also do what I love best, and that's interact with the audience.
I'll get up and talk for a while, then I'll pull them into the conversation. I think that's the best time because then the real stories come out, and everyone wants to get up and ask a question.
I'm there on March 10, and if everyone comes dressed in overalls and a shirt, they get to watch me for free."
*The Home Show is offering free admission for anyone who comes dressed in Mike Holmes' classic overall look on March 10. Mike's daughter, Sherry Holmes, will appear at the show on March 18, which is Women in the Trade Day at the event.*
We hear you have a new show in the works. What can you tell us about it?
"I can't give you too much information, but we're still going to be helping people. I also want to incorporate a lot of family fun with Michael and Sherry (his children). I don't care what it is we're doing – it's just about who we really are. I want that in the show a little more."
Like his other shows, he said this one will also feature the skilled trades.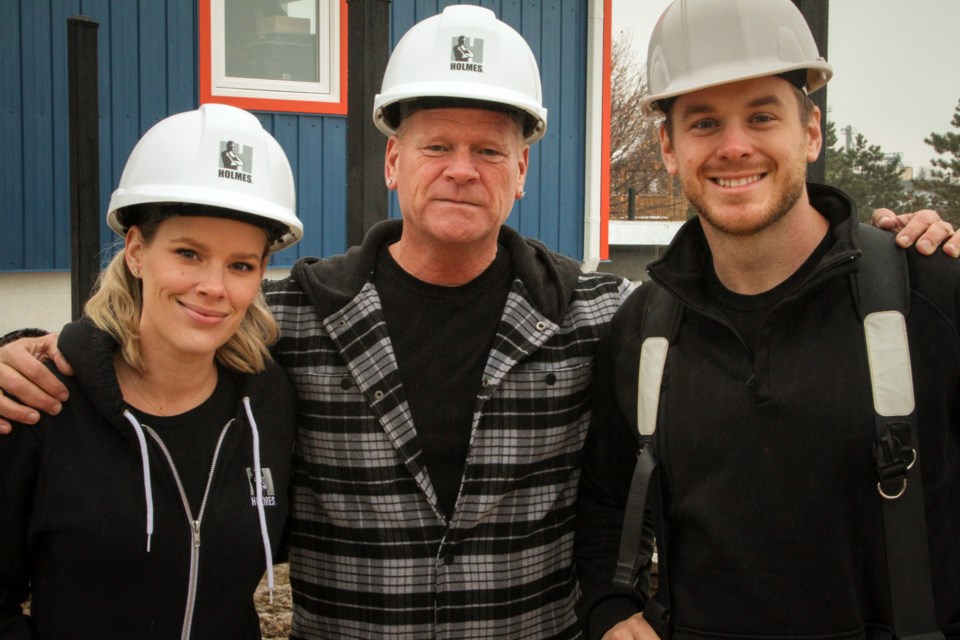 We know you've seen plenty of horror stories with home renovations. Is there one that stands out above the rest?
"The one that stands out in my mind the most is when I had to take the house down and build a brand new home because there were no footings. He (the contractor) had damaged the house so badly. I'll never forget this son of a b****h.
He took just over $300,000 and left (the family) with a home that couldn't be finished. They were going to go bankrupt, and he told them, 'Sue me.'
On top of it all, he liens them for another $200,000-plus dollars. I've never met a worse contractor. I had to give him (the contractor) $5,000 to walk away.
During the show, it took a million dollars of my money to take the house down and build them a new one. I paid their legal fees to fight the SOB and covered their living expenses during the time it took to build their home."
What's the first piece of advice you would give someone looking to start a home renovation?
"Slow down, take your time. Don't be in a hurry to get on my show. You can't run just because you decided to do a new kitchen or bathroom or basement. You still need to know things like, 'Can we take this wall down? What can we do financially?'
It's going to take you more time to set up the job than it is to do the job, so know that going in. Take your time, educate yourself and check out your contractor."
What do you like the most about living in Halton Hills?
"Halton Hills is a breath of fresh air. You've got the greenspace, the restaurants and stores that you need – you've got everything. It's not far from the city, but I don't want to drive to the city anymore. It's a diamond in the rough. It's probably one of the best places to live in Ontario."
What's your favourite place to eat in the community?
"I like Goodfellas – we've been there a couple of times. I also like the new Wimpy's on Hwy. 25 (in Milton). They make a really good bacon and eggs breakfast."
Mike Holmes' classic television series and specials are now available to stream for free on Homeful.