The 16-foot Marigold was created by two talented artists from Studio F Minus of Toronto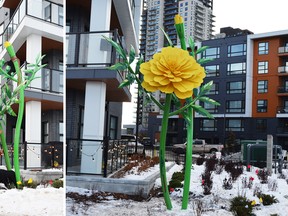 Article content
A vibrant, interactive public art installation is brightening a frosty Edmonton winter at Stadium Yards, a mixed-use urban community next to Commonwealth Stadium and Stadium LRT Station.
Article content
Marigold is a 16-foot artistic wonder that celebrates Edmonton's official flower and the diversity it represents. It was designed and created by Studio F Minus of Toronto, the creative collective behind Still Life, a permanent outdoor public installation at the Grant MacEwan LRT Station.
Brad Hindson and Michael Simon were commissioned by Rohit Rental Living to craft public art for Stadium Yards, an award-winning urban village with two six-storey residential rental buildings joined by a commercial area. Continuing to find ways to infuse the new and surrounding community with colour and creativity is an important goal for the Edmonton-based developer.
As the city's floral emblem, Hindson and Simon felt the marigold was perfect for the high-profile location.
Article content
"It's an incredibly diverse flower with many varieties of colour. We used a more generically recognizable marigold in the design, but we're activating it with light. It will cycle through shades from pale yellow to vibrant yellow, then to auburn and reds, to show that diversity through colour," says Hindson.
Simon says when approached, the colour transformations will speed up.
"When people come near, it will get excited," he shares.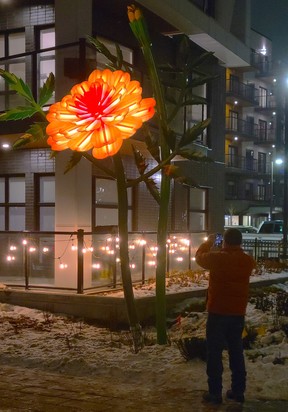 Marigold features a stem with a flower in mature bloom with a taller stem with a bud. It's younger and is reaching further, in celebration of a more positive direction for Edmonton, Hindson explains.
"The mature flower represents where we are now, and the bud points to an optimistic future."
Article content
Studio F Minus has designed many public art installations across the country, but Stadium Yards is the first commissioned project for a residential area. Hindson notes that the demand for public art, an aspect of society that has increased in the last decade because of urban renewal and inner-city residential development.
"There are a lot more apartments with people living in close proximity. People want something that sets their spaces apart, in spaces that align with their values," Hindson says.
Simon believes public art exercises the mind just as public parks exercise the body. Art gives people something to ponder and consider. It should be beautiful and engaging but should also ask a question, create wonder or defy gravity.
"Public art is something you can visit, then revisit with a different lens," he says.
For the current and future residents of Stadium Yards, Marigold will be a welcoming beacon, and visitors are encouraged to stop by for a photo op.
"It's also about keeping the lights on and coming home."
This story was created by Content Works, Postmedia's commercial content division, on behalf of Rohit Group of Companies.