We've all looked at a photo of ourselves and thought "I don't really look like that, do I?" Well, one man's photo fail came with double the humiliation, after an awful office snap was shared internally by his boss.
Jokingly calling the photo "an HR violation," user Austin Tibbatts (@aytibby) shared the unfortunate image with TikTok on October 6.
Appearing to be a panorama shot gone wrong, Austin was horrified to find that his face had somehow distorted in an office group photo, with users comparing him to the "Hunchback of Notre Dame" and "Sloth" from The Goonies.
Soundtracked to Taylor Swift's "Shake it Off," the hilarious clip has received over 4 million views and more than 700,000 likes.
In their Ultimate Guide to Panoramic Photography, Imaging Resource explains that a panoramic photograph is an image comprised of multiple shots "stitched" together. The technique is useful for capturing large images or settings, such as landscapes or group photos with a number of people.
The technique itself is nothing new, with photographers creating panoramic images since the mid-1800s. Early photographers would take multiple shots of a scene and place the plates side-by-side during the development process to form a larger picture.
Smartphones mean that taking a panoramic photo is now easier than ever, but the accessibility of the medium also means more fails. The majority of smartphones come with a panoramic setting that takes and stitches multiple shots together for you, but even the slightest movement can distort the final image.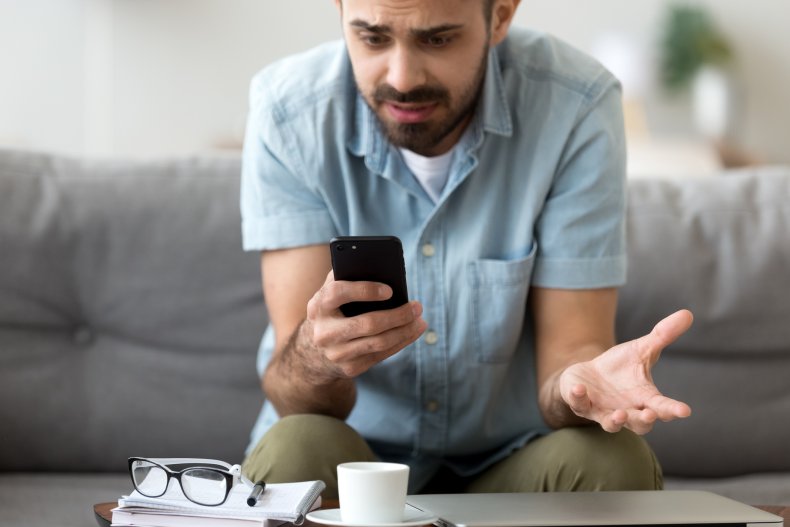 'What Did You Do Bro?'
Captioned "when your boss posts a group photo to the entire company and you look like this," Austin's face is the only one in the entire scene to have been distorted, leaving TikTok users in hysterics.
"I was not prepared," wrote Anxiety Rise.
"The fact that it's only you distorted is taking me out," said age.
"Lawsuit. Immediately," suggested Ian Centrone.
"This year's company Christmas card," commented septumdeviatedaf.
Rather than a "panorama" shot gone wrong, some users suggested that Austin's boss is out to get him.
"What did you do bro?" asked Paul Randolph732.
"Someone did that to you intentionally," joked Maria.
"Boss is threatened by you," agreed Sugar&Snoopy&Scooby. "This is sabotage."
While others just wanted to make jokes about the size of Austin's head.
"You just were having some big business ideas that day," wrote Mikel Strong396.
"It reminds me of the one striped shirt twin guys from Alice in wonderland," said Jessica Simpson.
"This has no right being this funny," commented Chasing Sunsets 🙂 "I'm sorry."
Newsweek has reached out to @aytibby for comment.
Austin isn't the only one to go viral over a photo fail. Earlier this year, a man's hilarious Costco card photo had the internet in stitches, while a woman who hilariously photoshopped a smile onto her boyfriend's face in every vacation photo was told to consider a career in retouching.
Do you have funny pictures you want to share? Send them to [email protected] and your story could be featured on Newsweek.