Entertainment
Food & Entertainment Hub Comes To Life At Stony Point's Patriot Hills Golf Course
RCBJ-Audible (Listen For Free)
Robert & Michael McFadden, Along With Master Chef Peter Muller from Hudson's Mill, Team Up To Bring Dining, Catering, and Entertainment To The Patriot Lounge
By Tina Traster
Robert McFadden lost his wife two years ago. Grief-stricken, he returned to his corporate job in sales and marketing at Samsung to cope with the tragedy. McFadden's son Michael, mourning his stepmother, was putting in long days at Grant Thornton International on the corporate fast track to partner. And Peter Muller, the celebrated executive chef and part owner of Hudson's Mill in Garnerville, continued to run a restaurant that was built out of whole cloth at the Garner Arts complex.
After individual and collective soul searching, several iterations of a business plan, and negotiations with the Town of Stony Point to lease the facility, the trio last May opened The Patriot Lounge, a hive of food and entertainment at Patriot Hills Golf Course. The imaginative concept combines a sports bar, restaurant, virtual golf, axe throwing, live music, event space, and a soon-to-be opened 50-seat Italian chop house. The diversification of offerings under one roof is a calculated effort to evolve the former catering hall into a hub for recreation, events, corporate outings, and dining aside the notable town-owned 18-hole golf course.
The McFaddens both possess a head for numbers and a tight grip on the mechanics of business. In October 2020, still deep in the pandemic, the elder McFadden was numbed with grief, working but restless. Michael, then 31, roused his father to think about a new venture. The pair thought about opening a small virtual golf center in Killington, Vermont, where they have a home. When the deal collapsed, they began to dream bigger.

"This was a time when I was doing a lot of soul searching," said McFadden. "My wife had passed away. I looked in the mirror and said I want to do something fun. Life is short."
McFadden credits his son with the push it took to turn a conversation into calculations and business projections when they came up with the idea of running the then-shuttered catering facility at Patriot Hills. For two years, many presumed the dining hall would be part of a town contract to sell the golf course, catering hall, and a portion of Letchworth Village to Stony Point local Raj Amar. In Nov. 2021, voters in a referendum narrowly defeated the sale, which opened the opportunity for the McFaddens to jump in.

But there was one not so minor stumbling block. For all their collective skills at business – and their shared knowledge about the golf business – neither had ever owned or operated restaurant or food establishments. Rather then go it alone, they partnered with a seasoned restaurateur who has gained notoriety for Hudson's Mill.
"At first, we didn't pursue Peter as a partner, we were family friends," said McFadden. "Michael and I called on him strictly to pick his brain. We made a 24-page PowerPoint with five-year P&L, balance sheet, staffing models, and start-up costs." Muller, who'd been restless, found his next venture. He saw the McFaddens had done their homework. He signed on as a third partner.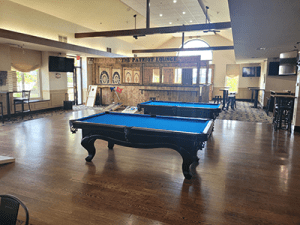 From the outset, the goal for the facility was to be something beyond a catering hall. The partners had two challenges: to create a blend of offerings to attract a broader demographic than the estimated 30,000 golfers who play the links annually. Essentially a rebranding. And to resurrect the facility that had been shuttered for two years and let the world know that this was not going to be a 2.0 version of what once was.
"With the help of Dave Fusco, Director of Golf at Patriot Hills, we have let folks know that we're back in business," said McFadden. "Over time, golfers couldn't get breakfast or lunch. There were no golf outings. Charity events moved to other places. This was out of sight, out of mind."
A six-figure renovation of the 20,000 square foot facility includes light fare including burgers and salads at The Revolutionary Grille, modern American farm-fresh cuisine and spirits, craft beer and cocktails at the Battlefield at Patriot Hills, and the Snack Shack serving cocktails and grilled food between the 9th and 10th hole.
McFadden said an Italian chop house is in the works.
The partners are banking on indoor entertainment to diversify their revenue stream. They invested $250,000 on four Trackman golf simulator bays that cater to all skill levels. The simulators offer access to more than 200 golf courses, club fitting and demos, lessons from certified Trackman instructors, and weekly leagues.
And to give the facility a real edge, there are two axe-throwing ranges with multiple lanes, and HDTV in every bay to watch live TV and track scores and stats.
The low-lit mid-century modern lounge with TVs and mobile sports betting rounds out the entertainment.
At 57, McFadden, who grew up working at the Blue Hill Golf Course in Pearl River, and who served on the advisory board at the Patriot Hills golf course, has undertaken a heavy lift. But he feels as though all the work and risk is going to be worth it. And he's thankful for the needed nudge from his son Michael after his wife Dolores Bauman McFadden passed away.
He is hopeful about the prospects of housing developments proposed at both Letchworth Village in Stony Point and the Town of Haverstraw because it would bring an influx of a residents. The redeveloped Stony Point site would also help the golf course and his business as many who come to the golf course or the facility wonder about the ghostly remains of Letchworth.
"Really, my day-to-day job is to be an evangelist," he said. "To shake a lot of hands, to take our lead from customers and understand their experience, to see what we can do better. This was a life-changing moment. We think we can do better with this than making an investment in the stock market over the next five years. This is an investment in ourselves. And in Stony Point."
---