Art
Chronic offender gets one day in jail for Vancouver art gallery theft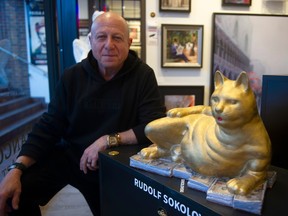 A man with more than 115 criminal convictions has been sentenced to an additional day in jail and probation for a theft at an art gallery.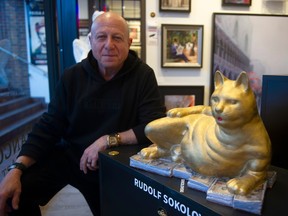 Article content
A chronic offender who pleaded guilty to stealing two sculptures worth $40,000 from a Vancouver art gallery in December is back on the streets after being sentenced to one additional day in jail and 18 months probation.
Article content
On Dec. 30, Francis Joseph Boivin, 50, entered a South Granville art gallery and brazenly walked out with one of the sculptures. He came back the next day and stole the other one, but this time the owner saw him and called police.
Article content
Boivin had vanished before police arrived, but after officers did a quick review of the Vancouver Fine Art Gallery's security footage, he was recognized as a chronic offender with more than 115 prior convictions.
Police sent officers to Boivin's residence in the Downtown Eastside and spotted him walking up to the building carrying the statue he had stolen. After getting a warrant to search his residence, police found the other sculpture he had stolen the day before.
After he was arrested, Boivin was remanded in custody for nearly two months until he entered the guilty plea to two counts of theft over $5,000 and several other offences pending against him.
Article content
On March 6, he was sentenced to one more day in jail and probation. In imposing sentence in the downtown community court, Judge Patrick Doherty had given Boivin the enhanced credit typically provided for pre-sentence custody.
The probation conditions include that Boivin keep the peace and be of good behaviour, appear before the the court when required to do so by the court, and notify the court or a probation officer in advance of any change of name or address and any changes of employment or occupation.
The judge also ordered him to attend the downtown community court case management team, which includes social workers, a psychiatrist, psychiatric nurses, probation officers, and sometimes police officers. The team is mandated with the responsibility of bringing their efforts and resources to bear on offenders to assist them with their identified needs. Prior court hearings have revealed that Boivin has drug addiction and mental health issues.
Article content
Asked to comment on the sentence, Dror Darel, a director of the art gallery, said, "What a joke. The guy has some (115) convictions and he's getting one day in jail. I'm wondering about our legal system, you know. What's wrong with our legal system?"
Boivin's lawyer said he had no instructions from his client and did not wish to comment.
At Boivin's prior court proceedings, it was disclosed that he had stable parents growing up in Quebec, with his father being a police chief and his mother a drug counsellor.
He moved to B.C. in 1998. One of his first criminal convictions was for trafficking in a controlled substance. He received a 60-day conditional sentence to be served in the community.
From 2012 to 2020, he was living homeless on the streets of Vancouver, but in 2020, with assistance, he was able to find housing in a single-room occupancy hotel in the city's Downtown Eastside.
Article content
Chronic offender arrested after two sculptures stolen from South Granville art gallery

Kelowna's prolific offender arrested again

B.C. to bring back special teams to monitor repeat criminals

B.C.'s expert panel on prolific offenders under fire before it starts work

More than 115 criminal convictions in B.C.: One chronic offender's story
---
Support our journalism: Our in-depth journalism is possible thanks to the support of our subscribers. For just $3.50 per week, you can get unlimited, ad-lite access to The Vancouver Sun, The Province, National Post and 13 other Canadian news sites. Support us by subscribing today: The Vancouver Sun | The Province.