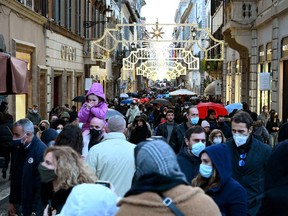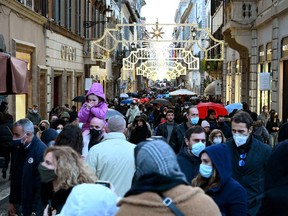 Article content
There are many kinds of photography — landscape, portrait, architecture, fine art, street, wildlife.
Article content
The kinds of photography are as varied as the interests of photographers.
Many photographers like to take candid photos of street scenes that include people going about their daily lives. Often this kind of photography is used to make statements about the social condition.
For instance, a photo of people walking zombie-like while looking at their phones with earphones plugged in might be a comment on isolation in a world connected via ubiquitous digital devices, It is an art form with social significance.
Many have concerns about people being photographed without their permission and sometimes take great exception to such photography. To avoid confrontation and to capture real life, many street photographers get their pictures surreptitiously.
Article content
The law, at least up until now, has been clear. You are allowed to take a picture of anyone who is out in public and who does not have an expectation of privacy. If you are on the street, it is a public place and a photographer can take your picture without permission. On private property, people have an expectation of privacy and taking such a picture would violate the law.
The law has worked well, for the most part.
However, technology has created a new way to violate people's privacy expectations. The main issue is that street photography is anonymous. If you take a picture of a person walking down the street, you have no idea who the person is and that is good. However, using techniques of artificial intelligence, or AI, massive databases of photos, including our own from social media pages, can be scanned for matches. A person in a photo can be easily identified.
Article content
Why is this important?
Let's say you witnessed a crime and you were photographed at the scene. If the criminal got a copy of that picture, it could be scanned into a website and you could be identified. The criminal then could seek to intimidate you into not testifying against them. Even witnesses who testify under conditions of anonymity could be exposed by means of a cellphone photo.
A staple of TV news is the "man on the street" interview. No longer can your opinions be given anonymously when a simple photo can reveal who you are. This can be unfortunate in a time when unpopular opinions are often punished on social media.
Of course, like most technology, there are benefits, too. Crime scene photos could be used to identify criminals and witnesses. When thousands of people invaded the U.S. Capitol last January, facial recognition technology was used to identify many of the rioters and bring them to trial.
Article content
It is only a matter of time before massive government databases will exist with photos of everyone. The provincial government already has your picture if you have a health card or driver's licence. Many major cities, such as London, England, have video surveillance on almost every street, which can be used to track people's movements.
The ultimate misuse of AI facial-recognition technology is by advertisers. They already track everything you do online. Soon, they will be able to so when you enter a store. Your face could be scanned, identifying you for selective advertising as you wander through a mall
Almost all technology is neutral, but it is the purpose to which it is put that makes it good or evil. Unfortunately, we are careening into a future with technologies that we barely understand and without any safeguards.
It will take a long time for the law to catch up to AI technology. Most lawmakers do not understand it and are subject to powerful high-tech lobbying by monied interests who want the capabilities the new technology offers.
To misquote, with purpose, Aldous Huxley: "Oh brave new world that has such technology in it".
Tim Philp has enjoyed science since he was old enough to read. Having worked in technical fields all his life, he shares his love of science with readers weekly. He can be reached by e-mail at: [email protected],