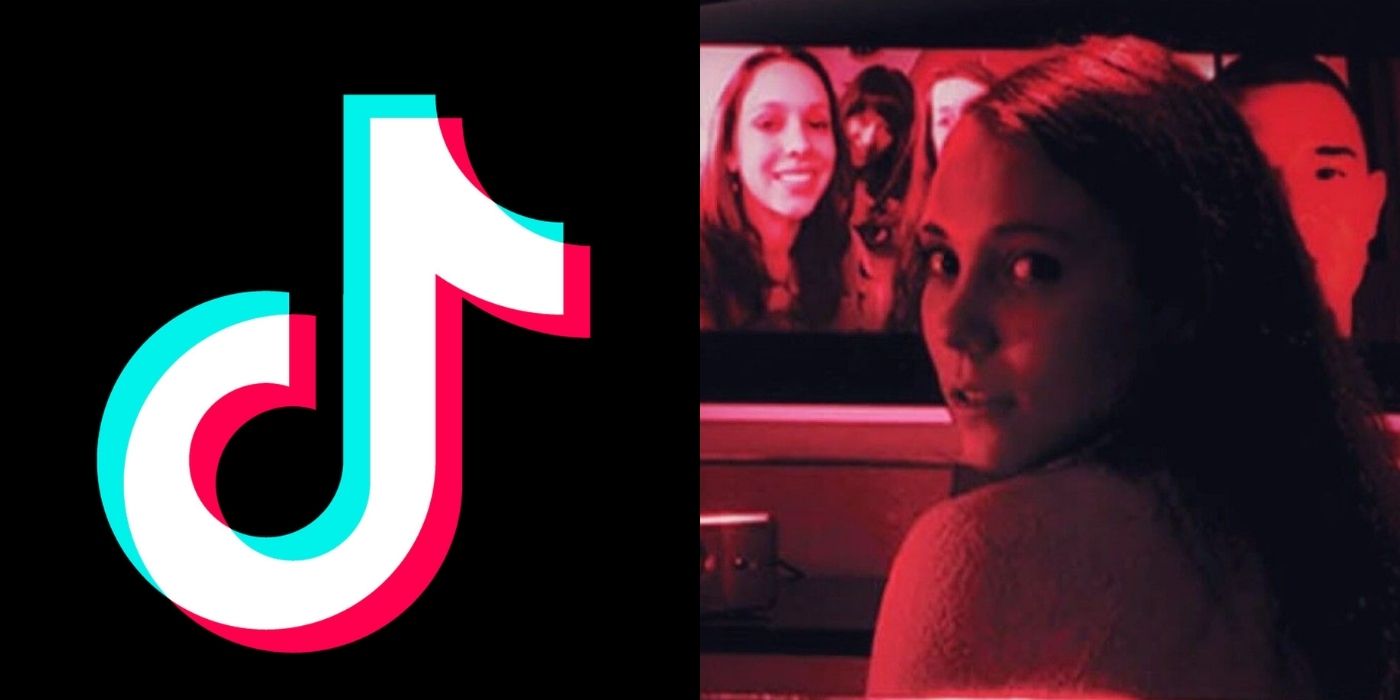 One of the most popular social media apps across the globe, TikTok has been known for launching the music careers of various artists such as Lil Nas X and Bella Poarch as well as other up-and-coming artists on TikTok due to trends with their songs becoming popular.
RELATED: 10 Books Trending On TikTok That Need To Be Adapted Into Movies
Many films have also had their popularity increased due to trends going viral on the app. While some popular trends have focus on scary and disturbing films, others recreate and re-interpret moments within the movie.
10

In The Heights Challenge
One of the best moments in Jon M. Chu's acclaimed big-screen adaptation of In The Heights comes when Washington Heights suffers a power outage. As those around them worry, Usnavi and Vanessa argue about Usnavi dancing with other people instead of Vanessa.
This TikTok trend involves people dramatically recreating this scene, particularly the moment when Vanessa walks away. Anthony Ramos and Melissa Barrera, the actors portraying Usnavi and Vanessa, also hopped on the trend in a viral TikTok.
9

Fast And The Furious Family Meme
One of the biggest film franchises of the past decade, The Fast and the Furious is loved by audiences worldwide for its outrageous, gravity-defying stunts. The series also has a nice sentimental core, with much of the characters connected through their idea of family.
RELATED: 10 Most Popular TikTok Stars In 2021 So Far, Ranked By Follower Count
The series' sentimental focus on family is parodied in this TikTok trend, in which series protagonist Dominic Toretto will randomly appear just to state that nothing is stronger than family.
8

Love Reactions
From controversial director Gaspar Noe, Love depicts a love triangle between an American film student and two other women. Unflinching in its eroticism, the film gained notoriety when it was released on Netflix.
Due to the film's shocking and graphic sequences showcasing real sex, many viewers were surprised to see a film like this on Netflix. This TikTok trend reflects this, as the trend concerns reactions to the film from people who had no idea what they were about to watch.
7

Megan Is Missing Challenge
Megan Is Missing is a film about the final days of a young woman before she disappears and goes missing. Presented in the found footage format and based on real-life events, this film is a harrowing depiction of child abduction.
RELATED: 10 Spooky Paranormal Channels To Follow On TikTok
Much like Love, this film gained traction on TikTok due to people reacting to the more graphic and disturbing sequences in the film. Banned in multiple countries, the final act of this film, in particular, contains many haunting visuals viewers won't soon forget.
6

Silenzio Bruno
As Alberto teaches Luca about how to live life on land in Pixar's Luca, one of the first lessons is for Luca to tell the voice in his head "Silenzio, Bruno!" when it starts to discourage him from doing something. This saying allows Luca to throw caution to the wind and in turn be more confident in himself.
In this TikTok trend, the soundbite from the movie is usually accompanied by a video of a seaside town like the Italian town where Luca is set. In addition, some TikToks comedically use the sound bite for various ridiculous decisions.
5

Tall Girl
Netflix's film Tall Girl tells the story of a girl going through high school who happens to tower over her peers. Released in 2019, the film has become popular online due to its premise as well as its ultra-specific title.
A moment that has inspired many TikToks comes when Jodi complains that her life is harder than everyone else's because she wears size 13 Nikes. In this TikTok trend, users show just how much harder their life is than Jodi's, with many of them dealing with tougher emotional or physical hurdles to overcome.
4

Thanos Snapped
One of the most memorable movie endings in the MCU comes when Thanos snaps the Infinity Gauntlet at the end of Avengers: Infinity War. As many of the heroes turn to dust, Thanos seemingly defeats the Avengers and wipes out half of existence before retiring to a farm.
RELATED: 10 Most Iconic Celebrity TikToks
Like the opening scene for Spider-Man: Far From Home, this TikTok trend shows this sequence but in a more humorous light. As many users finally get something that they have wanted, they are suddenly snapped out of existence.
3

Stealing LeBron's Head
One of the newest TikTok trends, this one is related to Space Jam: A New Legacy. Unlike most of the other trends here, this one isn't based on footage or audio from the film, but instead on merchandising released for the film.
In this odd TikTok trend, users have been buying toys of LeBron James in Space Jam: A New Legacy, and have been ripping the heads off of them. Many of these TikToks show collections of LeBron's disembodied head.
2

Antrum Challenge
Much like The Blair Witch Project, this is a found footage film that the filmmakers have presented as real footage. Creatively using the found footage format, this film purports to be a documentary about a real film that has cursed everyone who has ever watched it.
Antrum has become popular on TikTok through viewers who are convinced that they have just watched a cursed film. Many TikToks have gone viral that show the creator explaining what happens in the film, and why it might be cursed.
1

This Opportunity
Based on the classic 1982 film (and the Broadway musical before it), Will Gluck's 2014 adaptation Annie stars Beasts of the Southern Wilds' Quvenzhane Wallis as the titular orphan. In one of the film's stand-out moments, Annie performs the song "Opportunity" in front of a large group of people as Will (Jamie Foxx) watches.
One of the most popular trends on TikTok right now, many TikToks use the song to show different bad or unconventional decisions that they've made, as well as to highlight comedic hypothetical situations.
NEXT: 10 TikTok Cosplay Accounts To Follow For Star Wars Fans

Next
10 Funniest Action Movie One-Liners, Ranked

About The Author